Alterations of Bruch's membrane in pseudoxanthoma elasticum.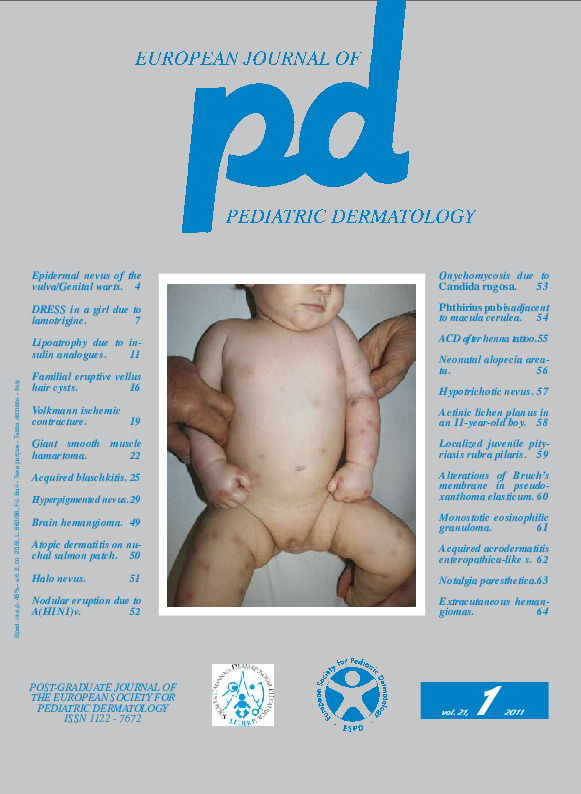 Downloads
How to Cite
Guerriero S., Milano A., Garofalo L. 2011. Alterations of Bruch's membrane in pseudoxanthoma elasticum. Eur. J. Pediat. Dermatol. 21 (1): 60.
pp. 60
Abstract
This is a 36-year-old woman sent by the
ophthalmologists due to the presence of skin lesions of
the folds, mainly in the latero-cervical region. Her family
history showed similar changes in a patient's brother,
while her parents, who were not consanguineous,
did not present significant alterations of the skin. The
skin changes of the patient started in the second decade
of life. The physical examination highlighted level
with the folds of the neck, armpits and groin, yellowish,
close to each other papules (Fig. 1), with a flat surface
and partially confluent in linear plaques. No significant
inelastic folds, calcifications or blackheads, nor mucous
papules were observed. The patient was followed in the
Ophthalmology Department due to angioid streaks of
Bruch's membrane (Fig. 2, 3). Her family history, the
clinical signs of skin and eye led to the final diagnosis
of pseudoxanthoma elasticum. The patient was sent to
cardiology and gastroenterology examination.
Keywords
Bruch's membrane, Pseudoxanthoma elasticum