Atopic dermatitis on flat angioma of the median line.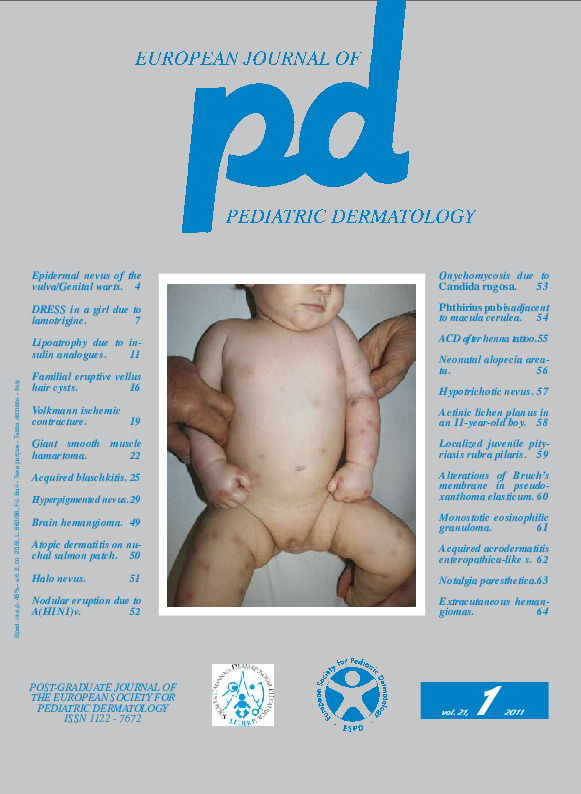 Downloads
How to Cite
Garofalo L., Arpaia N., Bonifazi E. 2011. Atopic dermatitis on flat angioma of the median line. Eur. J. Pediat. Dermatol. 21 (1): 50.
pp. 50
Abstract
A child of 4 ½ months presented from
a few weeks hair loss in the nuchal region and within
that area an itchy dermatitis. The dermatological examination
showed an erythematous, scaling plaque with
blurred borders in the nuchal region within an area with
shorter hair (Fig. 1). After a biopsy a corticosteroid lotion
was given. After 7 days the inflammation regressed
and got evident a brownish-red area (Fig. 2) that bleached
under the finger pressure, covered with thicker
and longer hair. The histology (Fig. 4 and box) showed
acanthosis, spongiosis and dilated vessels without inflammatory
infiltrate in the superficial dermis. The final
diagnosis was atopic dermatitis on flat median angioma
with hypertrichosis due to vasodilation, all signs
presenting inside the physiological hair loss of the
newborn. 1 month later (Fig. 3) angioma and hypertrichosis
persisted, albeit with less clinical evidence.
Keywords
atopic dermatitis, Flat angioma, Median line