Does the mode of delivery impact atopic dermatitis severity in children?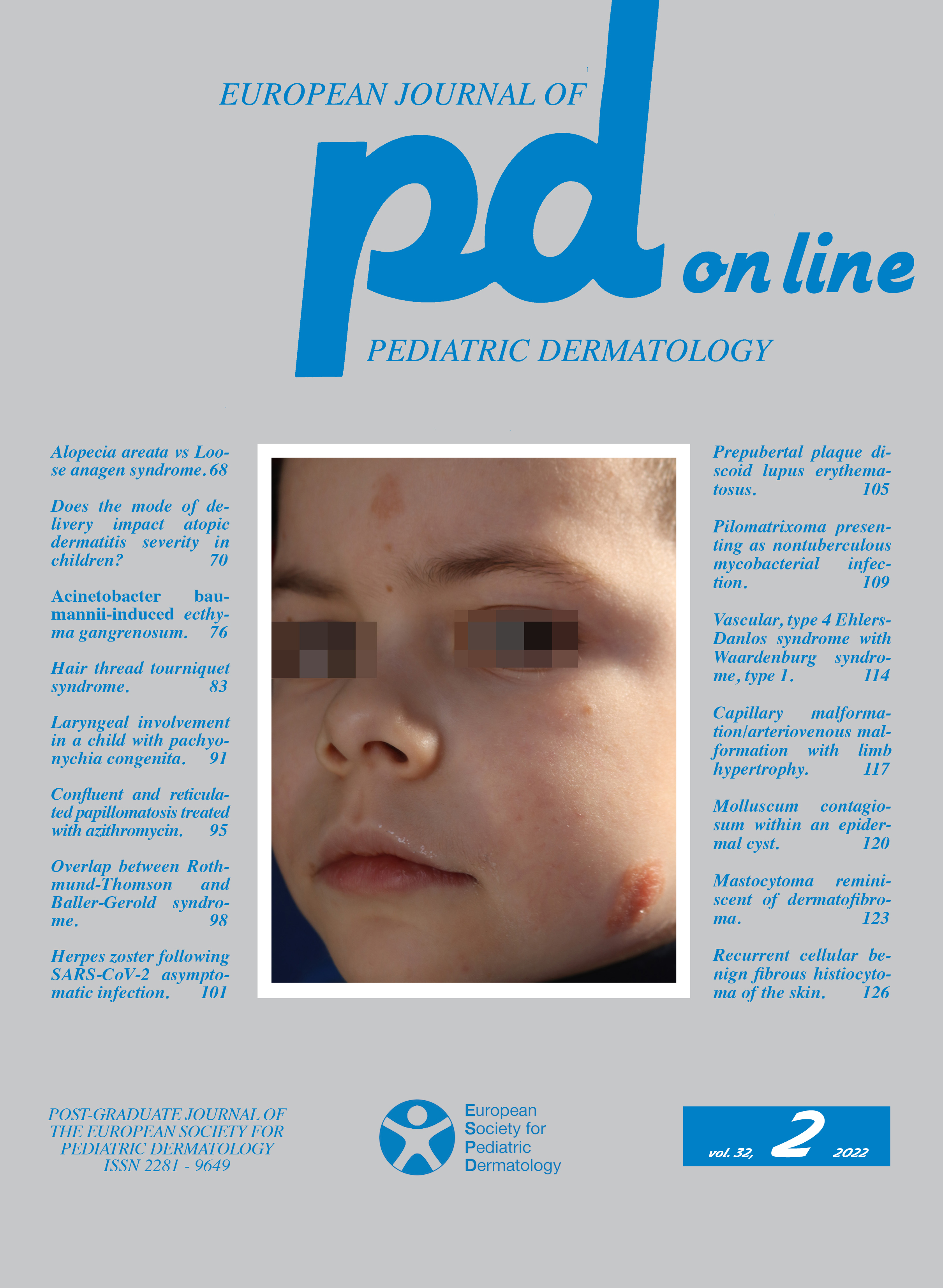 Downloads
How to Cite
Balighi K., Roodbarani R., Kianfar N., Dasdar S., Fahim S., Nejat A., Nasimi M. 2022. Does the mode of delivery impact atopic dermatitis severity in children?. Eur. J. Pediat. Dermatol. 32 (2):70-5. 10.26326/2281-9649.32.2.2349.
pp. 70-5
Abstract
Background. Atopic dermatitis (AD) is a chronic condition of early childhood. Factors attributable to the disease severity are contradictory.
Objective. To evaluate the relationship between AD severity and other atopic diseases and between AD severity and mode of delivery.
Methods. A total of 142 patients with AD who met the criteria of Hanifin and Rajka were included in this study. The SCORing Atopic Dermatitis (SCORAD) index was used to mea-sure disease severity.
Results. The mean age of AD onset was 19.29 ± 29.96 months and was significantly earlier in boys (12.97 ± 21.03, P value: 0.010). The prevalence of food allergy (FA), asthma, and allergic rhinitis (AR) were 42.3%, 9.9%, and 28.2%, respectively. The mean SCORAD score was 28.06 ± 15.61. The SCORAD index was significantly higher in boys (31.05 ± 18.08, P value: 0.013). Most patients (58.5%) had moderate disease severity. Type of delivery was not associated with the severity of AD.
Conclusion. Boys were significantly more likely to have severe AD and developed the disease earlier than girls did. Type of delivery, history of FA, asthma, and AR were not associated with AD severity. Further longitudinal studies are required to obtain more accurate results.
Keywords
atopic dermatitis, Cesarean section, allergy, dermatitis